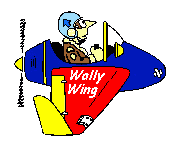 Wally Wonder Wing V2 Construction

---
#4 REAR SPARS

---
1) 1/8" x 1/2" x 19" spruce or for heavy duty use, aluminum or carbon fiber tube
---
We want a 19 inch long rear spar to fit snug between the front spars making a triangle.

This spar not only takes the wing bending loads, but compression loads from drag at high speed.

Note: If planning on using an oversized motor, battery pack, or doing very high stress maneuvers,
you might consider substituting a thicker piece, doubled section, or even a carbon fiber tube or aluminum arrow shaft here.
Frankly, I think it's overkill for a direct drive S400, but maybe others are flying WAY more aggressive than I do with much heavier power systems :)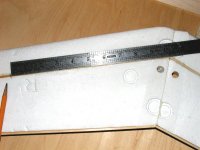 Measure out 10 inches on each front spar from root and mark.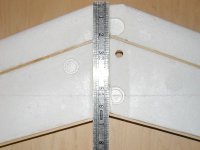 Connect the dots and you should be about 3 1/4 inch back from the front spar junction.
There should be about 1 inch between the rear spar and the TE at the root.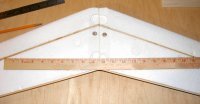 The length should be about 19 inches if your sweep angle didn't get too far off.


Measure offset as needed for your router base and gently clamp down with foam cushion under wing.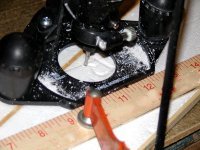 Cut the same as previously, but be careful not to touch the front spars at the ends of the cut.
Get close and cut the last bit of foam out by hand.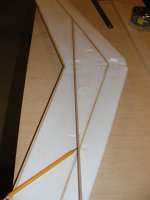 Lay out your spar piece and mark for length.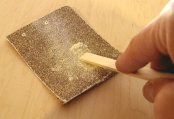 Cut to length slightly long and sand to achieve a flush fit at the proper angle.
It should be tight up against both front spars.
Glue as before and don't forget putting some on the spar ends.
Applying even pressure down on table assuring it stays perfectly flat till set.


Finished front and rear spar and TE caps.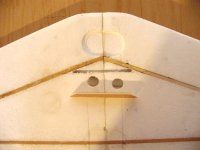 Optional front doubler beef-up:
Add a 2.5 inch long scrap of spar material as a doubler here for added strength the same way if desired.
After numerous crashes - eh, "hard" landings... I noticed on V1 that the front spar's glue joint had popped loose.
The wing root never failed on me, but just to be on the safe side you can put one in if you want.

---
BACK TO INDEX
NEXT PAGE