Welcome to ACESIM.COM - Since 1997 - Still the best value in a motion platform!

Be sure to see the Customer Completion page - (Ready Room)
You will not believe what builders are doing!

A.C.E.S. - Aerial Combat Engagement Simulator
featuring the JOYRIDER Project

JoyRider with CH Flightstick Pro, Throttle and Rudder Pedals Installed
If you want to experience true virtual flight then you need motion. The following how-to articles represent my efforts into perfecting the least expensive, easiest to build, most versatile motion simulator for home use.
The JoyRider is a two axis center stick flight motion simulator you can build without the use of expensive hardware. It's VERY fast, and SMOOTH and best of all it can be affordably constructed from readily available supplies with simple hand tools.
The "JOYRIDER"s design specs include;
* REAL FEEL responsiveness and balance
* Maximum motion range (positive G's only for now)
* Progressive stick resistance and stability
* Simple low-tech mechanical control activation
* Smooth ball-bearing suspension
* Full motion range, figure "8" stick stir - 2 SECONDS
* 24 degrees (12+12) of pitch and roll range
* Hands off stability with one finger sensitivity
* Weight range - fully motion tested with a 210 pound pilot
* Can use a variety of display and controller options
With your favorite flight sim program loaded, the lights out under the hood, and the sound system cranked up, total immersion occurs. The stick input induced inertia fools your inner ear into thinking that you are continuing to move in the direction you started even though you really don't. Instrument pilots know the feeling. What they see on their artificial horizon is not necessarily what they feel in their head. They have to trust their instruments or risk spinning in from following possible false sensations. These same false sensations allow you to now "feel" everything from snap rolls to loops to any other flight maneuver you can think of!
How (and why) to design a flight motion simulator - chapters 1-4
Complete step-by-step plans are still available!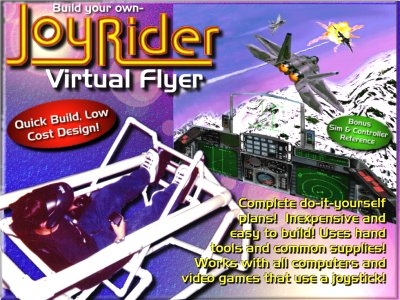 (click pic to find out more about the plans)
PDF format E-PLANS you can download at a reduced price!
Also check out the discussion of the prototype production model "Ultimate" JoyRider:
Ultimate Joyrider discussion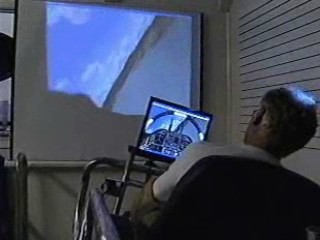 ULTIMATE JOYRIDER VIDEO

And if you don't want to build - See the "DreamFlyer" production model here:
http://mydreamflyer.com/
---
Copyright © 1997-2015 - Ace Sim RC - All Rights Reserved
CONTACT

YOU ARE HERE

HOW IT ALL STARTED

DESIGN YOUR OWN MOTION PLATFORM

QUESTION & ANSWERS

CUSTOMER JOYRIDER COMPLETIONS

STEP-BY-STEP
PLANS

HOW TO REACH US