Carbon Traveler Convertible TM
4 channel profile CF & ripstop portable Ultra-Light 3D/sport bipe.
Ace Sim RC proudly presents the Carbon Traveler Convertible.
This one plane just may be the most versatile, durable, and transportable RC plane anywhere.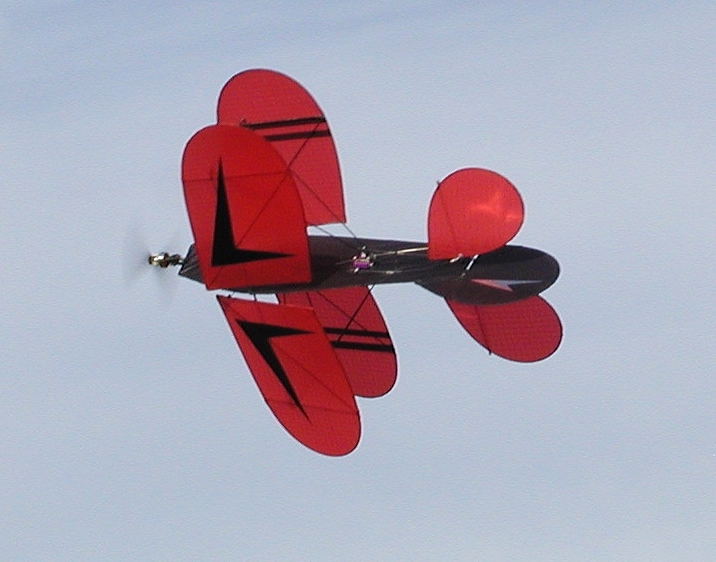 It was designed to offer the maximum crash resistance without the expense of flex in flight to learn advanced maneuvers.
Built entirely from nearly 50 feet of carbon rod and covered with 1/2 oz coated poly ripstop this fully 3D capable biplane weights right at 3 oz empty of any gear and can be flown in the smallest of yards (see videos below) with inexpensive off-the-shelf CDRom brushless gear.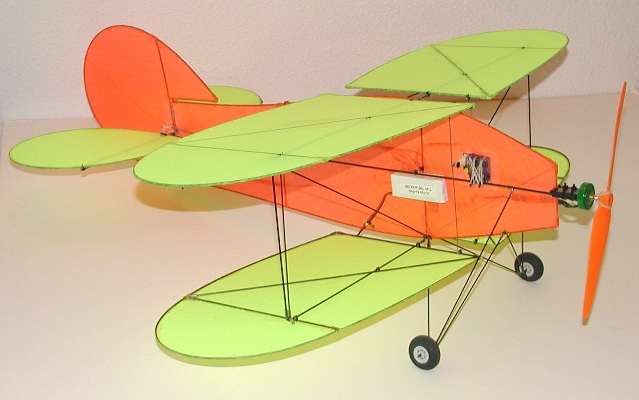 (fluoresent yellow wings and fluoresent orange fuse)

SPECS:
Span 26 inch, Length 28 inches, 2.6 sq ft area, AUW (min tested) = 7.25 oz, W/L 2.8 oz/sq ft
Motors currently tested:
Westport 20 turn CD-ROM w/APC 8x3.8 - ET 2S 700 LiPo - GOOD
LensRC 22.7 25T w /8x4 DD - ET 3S 700 LiPo - GOOD
LensRC 22.7mm 20T w/ 8x4 - ET 3S 700 LiPo - BETTER
LensRC GBX single 20turn - slightly heavier - BETTER
CustomCDR "cool" wind single "Billet Bullet" - BEST
Komodo 2204-15 turn - recommended or equivalent brushless
2) GWS Picos, BMS-306bb, WD-60s or HS-55s for R/E
1) GWS Naro HP, BMS-371 or equal for dual WINGERON control
Currently using Spektrum Dual Link radio system - no channels to worry about and no GLITCHES, period!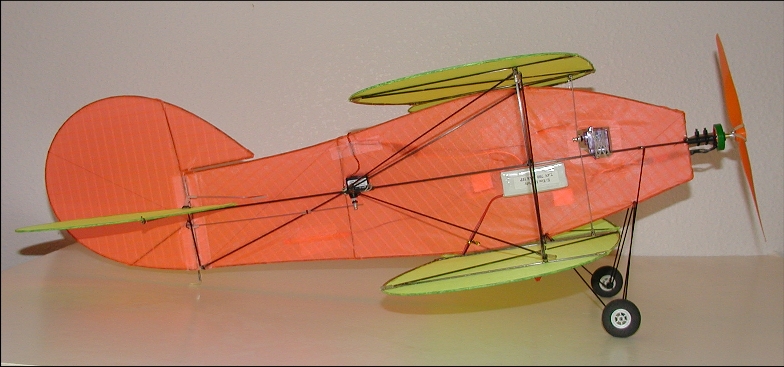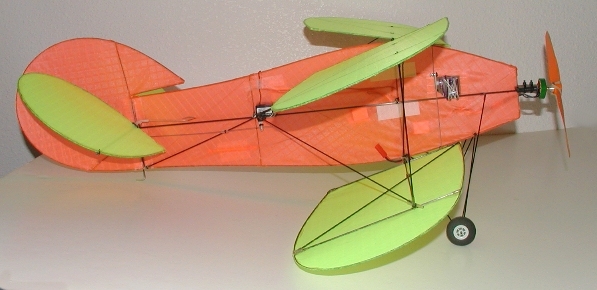 (all flying control surfaces and wings offer max control at slowest speeds)
Everything just plugs together for ease of adjustments and flat disassembly for transport.
Even the servos just rubber band onto the frame!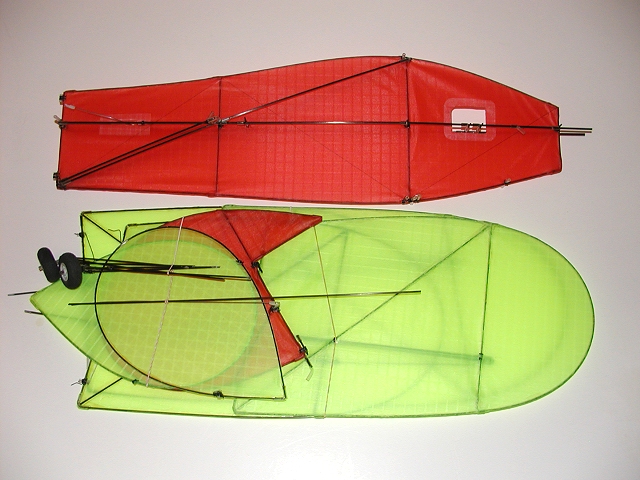 Disassembles flat for transport in about 2 minutes without tools!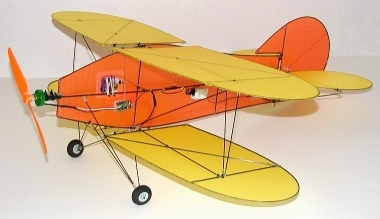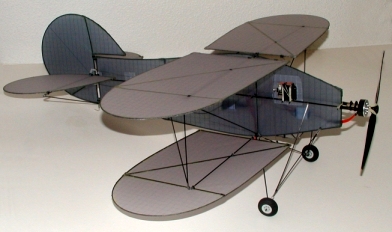 (Yellow wings with orange fuse) (Silver wings with slate blue fuse)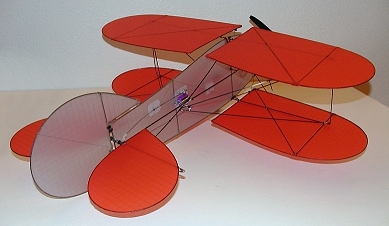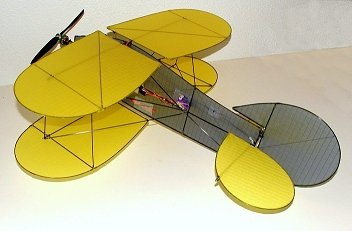 (Red wings with silver fuse) (Yellow wings with slate blue fuse)


This plane was designed for learning 3D without spending all your time repairing or rebuilding and to be able to fly on a whim in a small yard with lots of obstacles. The low wing loading keeps it slow enough to figure out what it's doing and keeping it lightreduces the potential for impact damage.
Using a biplane layout not only reduces the span for a given wing area but achieves great rigidity from the box strut structure.
This is a true case for "form follows function".
07/06 - I've learned more from this plane in the year now I've been flying it than in the previous couple years with other planes.
Let's face it. We practice, we make mistakes, and we inevitability screw-up.
"I crash therefore I learn"
---
One customer states; "The few flights I had can attest to the absolute bullet-proof design.
This is definitely the plane I wanted ..... the durability is unbelievable."
---
Here's an independent review on a pre-production ARF:
Be sure to also see his flight pics link at the bottom of the page.
---
MSgtrob on RCgroups has this to say: Thanks again for an AWESOME set of plans. I've built quite a few other designs in my quest for a plane that can survive long enough to teach me to fly--your CTC has FAR exceeded any reasonable expectation.

It's my number one plane and still amazes anyone that sees it. Wow, months of flying and this bird just keeps taking it!

Ran through a dozen batteries today--one line drive into the neighbors garage door and one screaming nose dive from about 50 feet straight into the concrete! Pieces of plane everywhere--new prop and two minutes snapping it back together and she was good to go! Much to the crowds disbelief.

Hardlock--the CTC is the undisputed champion of this neighborhood-(confirmed by all the children and parents drawn to the "free" airshow.)
---
Jlundberg on RCgroups writes: This CTC is FANTASTIC!! We had some great weather Monday and was able to do a lot of flying. Man, talk about tight loops and rolls. WOW

It was funny on my second flight. I was going vertical after a takeoff and a band broke on my prop, all I could do is shut it down. With just a bit of elevator it did an "elevator" to the grass. It was soooo slow I could have caught it if I would have ran to it.

This is a blast. I love doing prop hanging etc.
Thanks Ken for such a fun plane. Keep up the great work. I would recommend this to anyone!

John
P.S You can quote me if you like... I'm one satisfied Customer!!!!
---
All fittings in this plane will just pop back together even from the worst impacts.
The plane as been crash tested so hard into hard-pack earth and indoor floors I just knew something must be broken.
In the hundreds of hours and probably as many "mishaps" I've yet to break anything except props and one LG strut from a concrete wall that got in the way!
Here's some videos to give you the idea of its durability:
---
3/06 - Watch the back of the hall when the clip starts.
I fly out of frame to the left but you can hear that I crash HARD!:
indoor1-fix.wmv about 8mb
Except for a broken prop, she was almost fixed by the time I got back to the flightline.
Remainder of clip is me getting some much needed 3D practice. :)
---
3/06 - MUST SEE! I let "DJ", one of our local experienced 3D pilots, try the CTC. He wasn't content to just fly it around, but took it for a walk down the hall, up the stairs, walked the walls, fell off the wall, crashed down the stairs, all kinds of fun stuff!
BTW, This is all one continuous flight (less crashes) and only edited for time:
indoor-DJ-stairs.wmv about 6 mb
Again, NO damage to plane!
---
1/06 - Indoor dogfight between #1,2, and 3 prototype CTCs. Ends with a cool midair!
3-CTC dogfight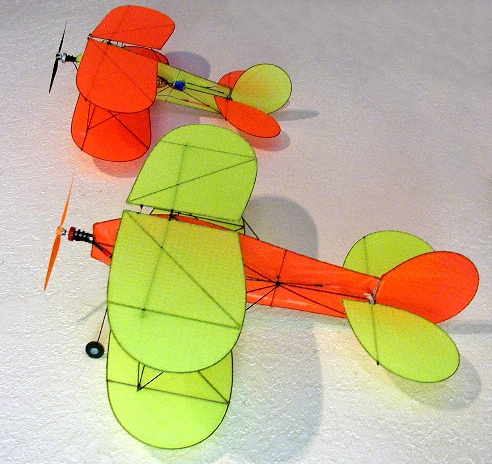 ---
10/05 - Am I 3D yet? Staying in the box - relaxing mix of maneuvers in the yard. The dance of the CTC!
Mostly high rates using 3S 700 w/ LensRC 22.7 20T and 8x4 HD prop:
MI3D2.mpg 20mb hi-res (download to run smoothly)
MI3D2-small.wmv 8mb low-res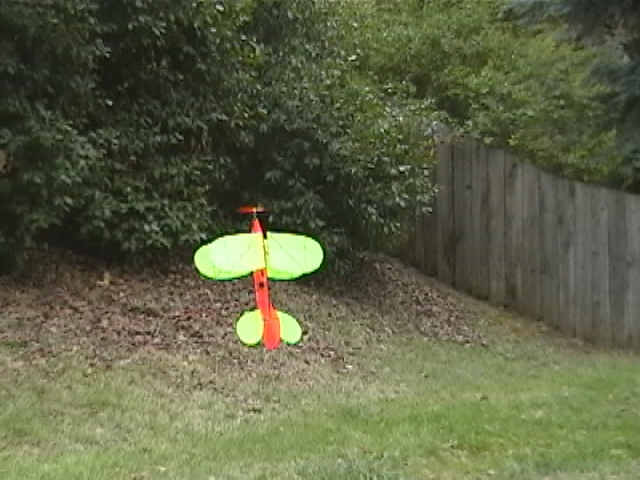 ---
When foam and CF collide. Foam loses! I was hovering at the time and didn't see him coming.
Scratch one foamie, mine came out uneffected except needing to flip the elevator back from overcentered on the linkage wires.
I was back in the air in seconds. This is one tough bird!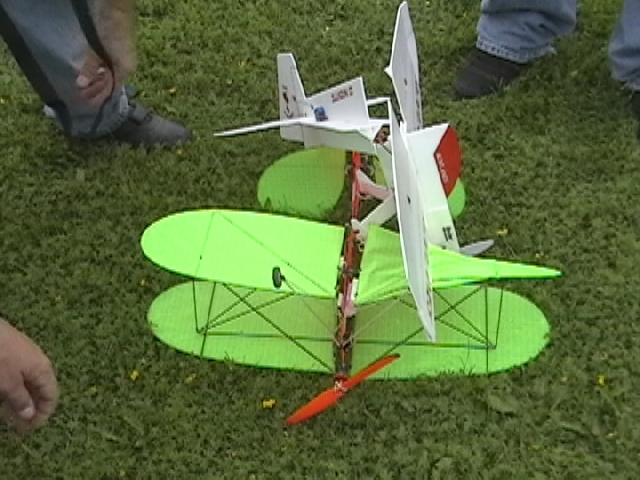 ---
8/05 - After much testing and changes from the original prototype, I hit the field for a maiden with the pre-production version.
3S 700 pack w/LensRC 25T on low rates: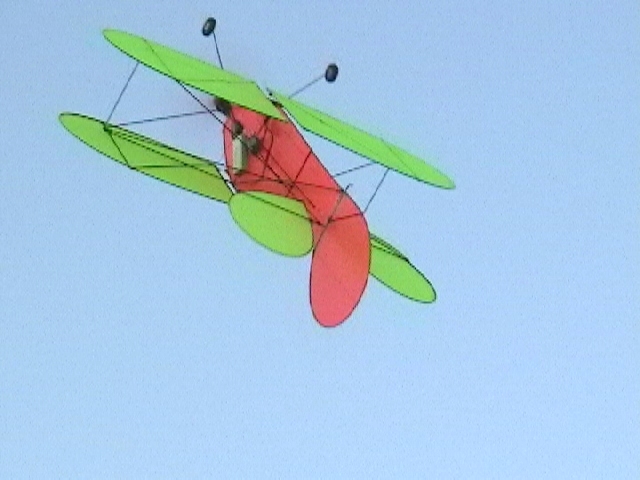 7/06 - BTW, this same #2 prototype gets flown (and crashed...) almost daily and is still going strong after over a year of hard use!
---
What makes it a "convertible" you ask?
Well if you want to fly in some wind, just unplug the lower wing in a couple moments and have a high-wing sport model.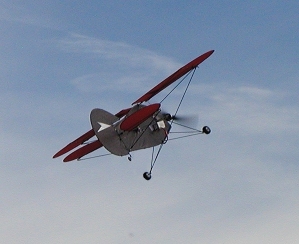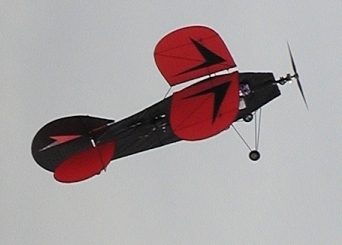 Or secure the wings from moving, add longer wing struts to get some dihedral and you have a nice and slow R/E plane. With the travel set low enough and the dihedral left in, it can be used as an aileron trainer as well. A mid-mount single wing configuration for use as a higher loaded 3D version has been developed by a builder on RCgroups and performance reports are good (see pics on RCgroups thread at bottom of page starting at post 535).
A built-up ripstop wing for it also envisioned at some point. Makes for a great testing platform as well.
---
Here's a link to a setup video from when ARFs were available. If you are scratch-building, it will give you an idea of how it get's assembled once the parts are made. CTC ARF SETUP VIDEO
Note - it's a big file (15.3MB) so best to download it first.
(right click link, choose save-as file, etc.)
Note that we're not manufacturing kits for the time being but we are intending to provide complete plans for many of our models with complete sources for the materials. Many have asked why we stopped selling our kits and mainly it's due to the rising cost of materials and the fierce competition of cheap import foamies. If you've gone that road, you will find a some point that you are spending more time building than flying. Then do consider building with CF rod and fabric for a VERY long-lasting plane!
Here's what the kit we were selling looked like.
All the panels were completed with all fittings and rods cut to length (all 50 ft of rod!).
Two colors of ripstop coated poly material was supplied with all needed hardware.

Only the highest quality materials was used in the kits. Note that other "similar" constructed import models use inferior grade rods that have almost no carbon fibre in them. We use only Avia Sport brand rods. Our fabric is 1/2 oz poly that is coated for zero porosity instead of the typical 3/4 oz nylon usually seen on other models. It costs us twice the price but every gram saved helps performance. Even though we had to pay retail for it as it is only available from one source, we felt it was worth it to offer the best quality product available.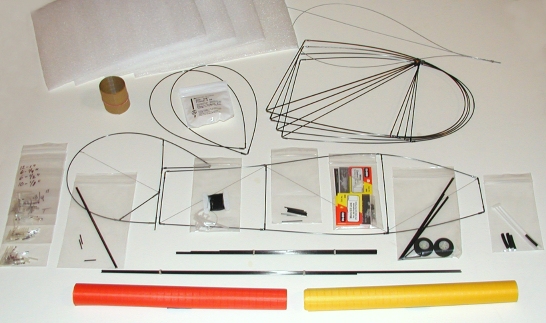 This construction is considered intermediate due to the power gear and servo linkage installation. Except for covering the panels using contact cement, the remainder of the construction is just lashing fittings to the frame for plug-in assembly of all components and support rods.
Build time is estimated at about 3 hours a day for 4 or 5 evenings of relaxing work.
If you want to scratch build your own, here's the RCgroups construction thread with build details:

RC groups thread
If you have Real Flight, here's a link to a CTC modeled for it:
Real Flight CTC model
and some discussion about setting it up here:
http://www.rcgroups.com/forums/showthread.php?t=766533
---
E-mail kit testimony from one builder:
"Hi Ken,

I want to tell you how impressed I am with the quality of your CarbonTraveler Convertible kit. I was blown away with your attention to detail when you manufactured this kit! The instruction manual was the most detailed that I have ever seen and the language was precise yet understandable. The large color photographs were greatly appreciated. Sorting all the fittings, bushings and other parts out into separate bags and then clearly labeling the bags was also very helpful.

My CTC assembled exactly as the instructions called for ...Also, thanks for the rapid shipping.

Your material selection for the fittings and bushings was perfect. The bushing material was straight and rigid without an excessive amount of wall thickness, and the fittings are flexible yet very strong....

My CTC's maiden flight will probably occur this Saturday down in Hanger 1 in Lakehurst, NJ (home of the Hindenburg) - I hope that my piloting skills will do justice to the quality of the CTC kit. Thanks again for your obsessive attention to detail.

Roger Williamson"
---
Copyright © 2001 - 2015 Ace Sim RC - Springfield Oregon USA