The CARBON KESTREL is the baby brother of the Carbon Falcon. It's smaller, lighter and more maneuverable for indoor or outdoor flight.
Control is mixed pitch and roll via true wing warping without any control surfaces.
This indoor or light wind park flyer is very efficient and performs well with just the little GWS brand LPS motor and a pair of small LiPoly cells.
It is stable in flight yet offers exceptional controllability with its exclusive Warperon (TM) wing shaping system.
---
FLIGHT
The Carbon Kestrel is a very stable wing yet due to its small size is still highly maneuverable.
The slow speed flight characteristics are very solid since the controls add more washout at high angles of attack just when you need it most.
It is also very comfortable in breezy conditions due to the outstanding control response.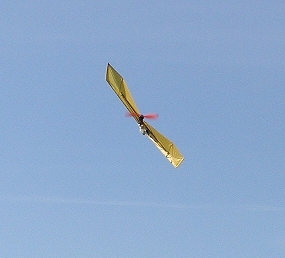 The wing holds its airfoil shape at all times from the exclusive pre-tensioned wing bows without the use of ribs.
The washout is varied for complete control by directly twisting the wing tips.
---
CARBON KESTREL SPECS:
Span = 30 inches
Area = 246 square inches (1.7 square feet)
Length = 14 inches
MAC = 8.5 inches
AR = 3.5:1
RTF Weight = 4 to 6 oz
Wing loading = 2.5 to 3.5 oz/sq ft
---
GEAR:
Micro Receiver - GWS R4P or better
ESC - GWS ICS-50 or Castle Creations Pixie 7 for brushed motors
Castle Creations Phoenix 10 for brushless
Servos - Hitec HS-55s or equivalent
mixed as elevons
Requires 3 channel radio with delta or elevon mixing preferably with programmability
(but an inexpensive Hitec Focus III or Neon works just fine!)
---
POWER OPTIONS
For the lightest wing loading for the slowest speeds for indoor or limited area flight, the GWS 7.2 vt "C" LPS motor at only .6 oz can't be beat for it's price.
Used with a pair of light LiPos you can easily get the W/L below 3 oz/sq ft.
With a GWS IPS 1S or light brushless motor the CK becomes an aerobatic wing for in close or big sky stunts.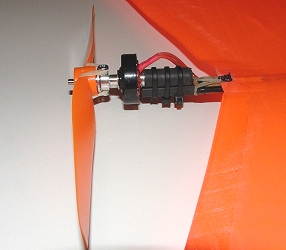 (Typical spindle mount brushless outrunner motor shown)
Even with a GWS IPS motor it can be looped from level flight plus do some amazingly tight turns, wingovers, rolls and even inverted.
Add a light CD-ROM (outrunner) style brushless motor and you can get almost unlimited vertical performance.
Use 2S 1200 LiPolys with the IPS or CD-ROM motor and you can expect very long flight times.
Now that super lightweight 10 gram brushless outrunners are available, using it with 2S 800 LiPos for indoor really lowers the wing loading.

---
VIDEOS:
Here's a MOV clip of with the IPS S1 drive in 10 MPH wind!
Here's a MOV clip with 1 oz. brushless outrunner motor.
---
The Carbon Kestrel is constructed from strong, lightweight coated ripstop fabric with a carbon fiber tube and rod frame.
It can be collapsed in a couple minutes into a skinny bundle for convenient transport.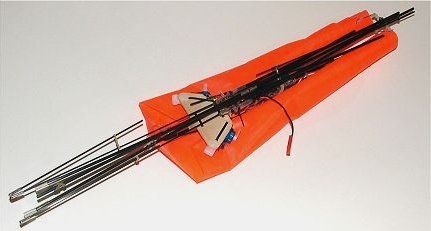 ---
Here's what the kit looked like (Sorry, currently out of production):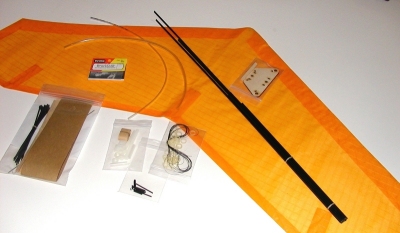 ---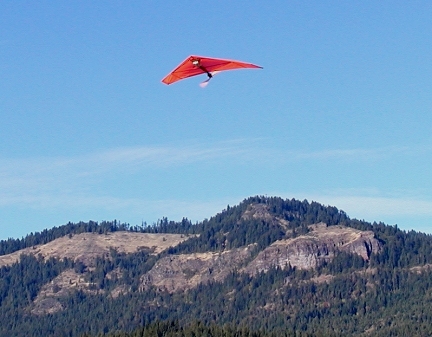 ---
See what others are saying about their CKs on Ezone:
CARBON KESTREL - TRUE TO IT'S NAMESAKE!
---
And if you are just starting out in RC electric flight, be sure you read the excellent FAQ section there that will answer all your pressing questions:
---
Copyright (c) 2001 - 2015 Ace Sim RC - Springfield Oregon USA