Welcome to the Ace Sim RC LAB
Here's where you'll find what's in development
Scroll down to see all models
Be sure to tell us if you see something you like or would like to see as not everything will make it to production
updated 02/11
---
Newest wing in development is the Carbon Eagle (tm)
(Started 5-05) - This bird features full double surface wings.
AXI 2212/34 w/ 10x6 APC folder and 3S 1500 LiPos
62 inch span, 3.75 sq ft area, AUW ~20 ozs
Control is with advanced Warperons with 2 servos mixed as elevons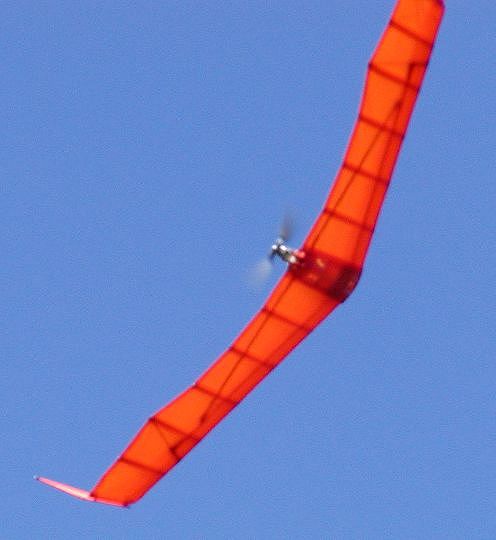 Here's a couple QT MOV clips of the original prototype. First is with the tip plates:

and this clip is without the plates which is more what the production model will look like:
More recent stress test with washout rods removed showing good soaring ability and full control:
and of course the plane disassembles in minutes!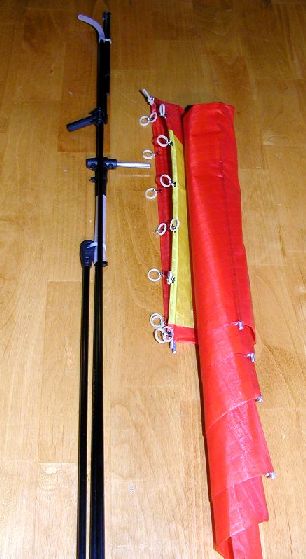 (one wing half shown)
Here's a discussion thread on its development on Ezone:
---
Carbon Prime (tm) Convertible Update - 02/08 Now in production here: Carbon Prime

---
CP Development History
4/07 Version 2 (also see original indoor version down page)
Added a newly developed double surface "slip cover" wing with wing warping for ailerons for serious 4 channel flying!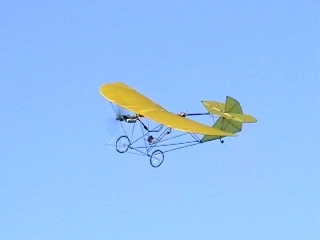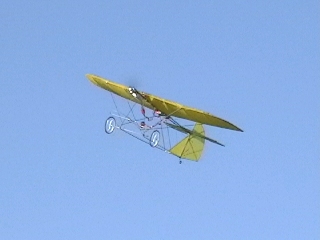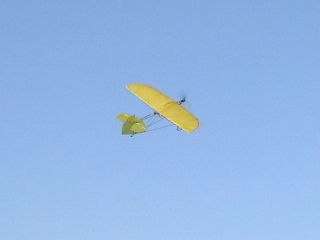 Here's a video clip of the maiden flights. Wind 5 from left of screen - look for outside loop during stress testing! :)
Indoor clip - 1st part setup R/E for guest pilot on 2S pack - then wringing it out on 4 channels w/3S pack:
Prime-armory.wmv

5/07 - Upgraded to bigger Komodo 2407-16 motor and 3S 1500 pack.
Really gets with the program here with lots of stunts and flying in a good breeze:
6/07 - Added video cam and took some footage at a local lake:
Here's an RCgroups thread showing more stills plus specs and discussion if interested :
Carbon Prime - Help develop the perfect parkflyer

---
TriClops VTOL - 12/06
Since our local indoor meets have become overtaken with heli pilots,
I had to fight back with something that would take a beating and be easy to repair and still give me that "dust off" performance. :)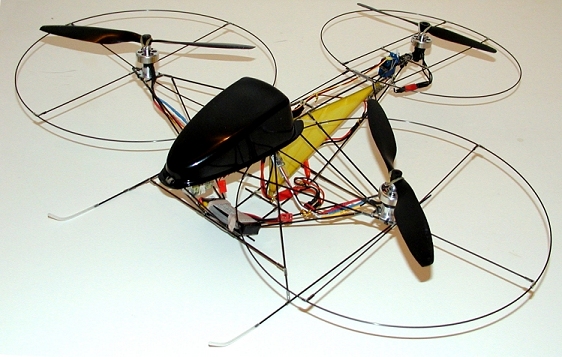 Just need 3 motors, 3 ESCs, 3 gyros, and one servo to tilt the rear motor for yaw (and lots of mixing) to make it work.
Uses counter-rotating 10x4.5 props on the "mains" with an 8x4 to hold up the rear.
The Komodo KH2204-17 motors all around allow about 6-8 minutes flight on a single 2S 1250 Lipo.
Once trimmed it can fly hands off for quite a few seconds at a time. A local heli pilot tried it and claims it's more stable then his chopper.
Here's a clip of it in action:
Here's a development link on RCgroups for more pics and details of its construction if interested:
http://www.rcgroups.com/forums/showthread.php?t=595164
---
Carbon Falcon (tm) Convertible - 5/06
Take a stock CF, add a detachable V tail with undercarriage and what do you get?
A solid full house portable plane that can easily haul 6 oz (Aiptek MPVR shown here) for AP use or?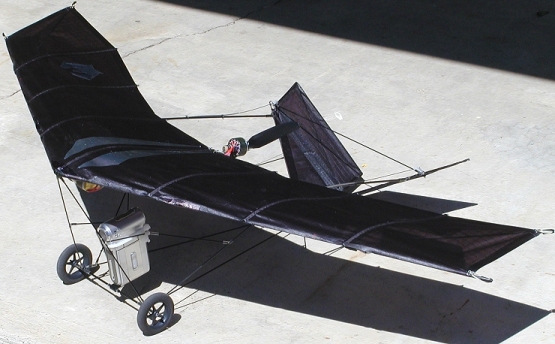 Maiden MPVR video clip - Ground & air edit - Hand launch, spin from disorientation, hand catch landing:
Very rough air so look out for vertigo! :)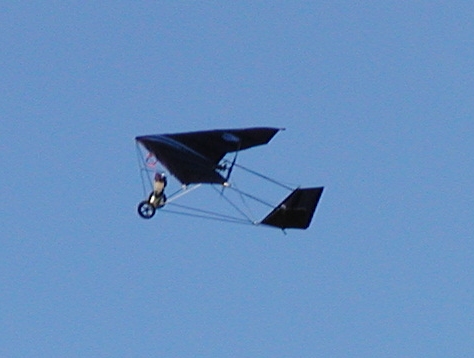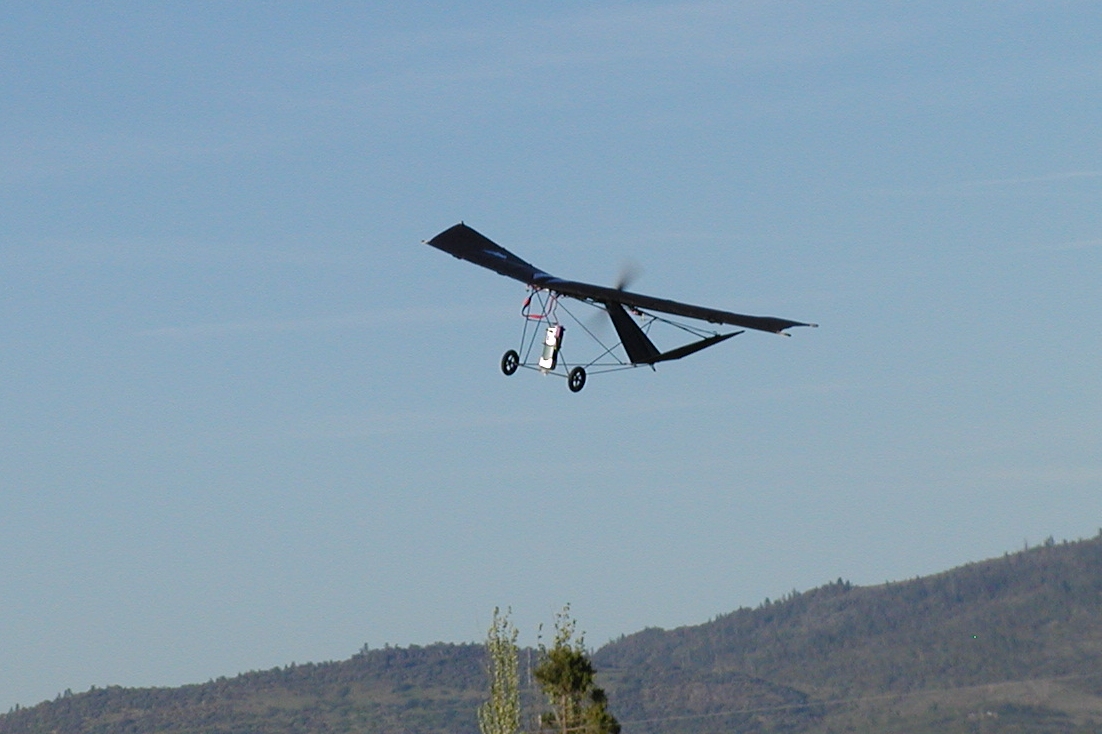 That's a little cheap Pencam onboard in the above pics. I tried it first. It only weighs 3.1 oz.
Now I just need to get the rest of the plane to fit in the same box as the CF!
---
(Indoor Prototype) Carbon Prime (tm) Convertible - 2/06
Simple, light, indestructible 36" span rudder/elevator trainer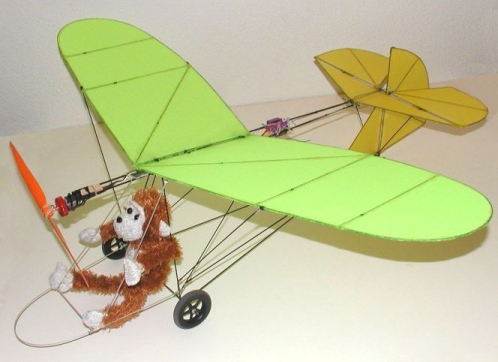 I wanted something I could hand over to kids and beginners at our indoor fly-ins that I didn't have to worry about getting wrecked.
It's proven itself to be this and more as I under propped it and added the 2 oz pilot to keep it on the ground.
Leave it to a kid to figure out how to make it fly anyway however.... :)
Note: the boy in the back of the hall is the pilot in the second half and has never flown anything before!
CP-training1.wmv about 2.5mb
In the hands of an experienced R/E pilot and with the monkey removed but still under-propped, it's potential becomes clear.

CP-DJ-best-s.wmv about 6mb
The front fiberglass bumper frame detaches once you've mastered the plane BTW.
Tested with success is the addition of a 3rd servo connected to the rear wing struts for simple aileron functions making it convertible from 3 to 4 channels.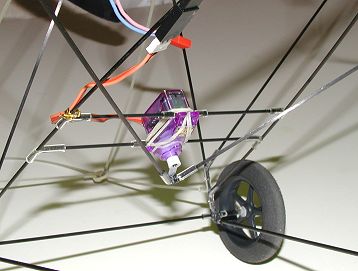 Should make for a perfect aileron trainer as the stability remains with the dihedrel setting so the transistion isn't as pronounced.
Once learned, the dihedrel can be easily reduced as experience grows. Or convert back to R/E just for the fun of it!
---
Carbon Retro VTOL - 9/05
A spin-off of the Hum-bugs and T.O.P (below) for 3D training.
If you can master this, you can fly anything! :)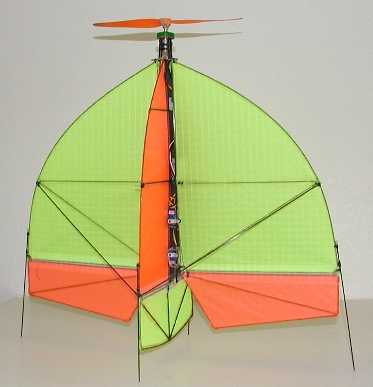 Here's the specs:
Span 18"
Length 18" (less landing posts)
Area about 200 sq in.
AUW 6 oz.
Motor LensRC 22.7mm 20 turn BL
Prop GWS 9x5 HD
Pack 2S ET 700 mAh
Servos 3) HS-55
W/L about 4.4 oz/sq ft
Power to weight ratio 1.8:1

Here's a clip of it in action:
VTOL-2-1e.mpg

The CG wasn't quite right and the landing gear needed to be widened but it flies just about like you'd expect - hover or hot-rod.
Harriers nice but touchy w/o expo. Still in the testing phase. I need to get it to the field and really open it up with a 3S pack!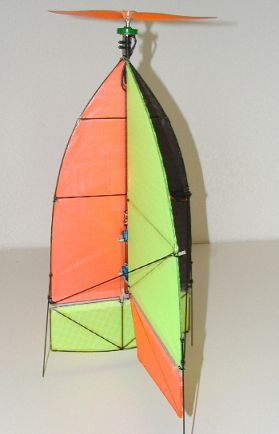 ---
Carbon Snapper (tm) - 4 channel profile CF & ripstop portable 3D/sport.
Nippy Black 0808 brushless & 2-3S LiPolys
29 inch span, 2 sq ft area, W/L 5-6 oz/sq ft.
All flying rudder and stab with 35% ailerons.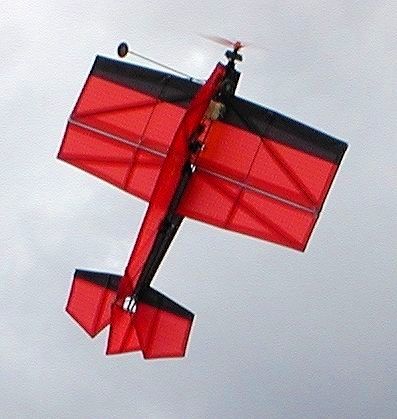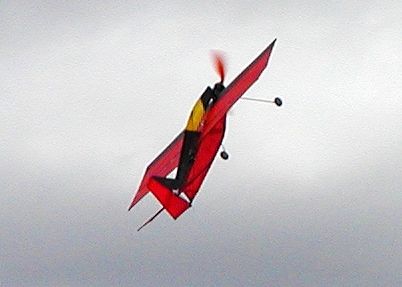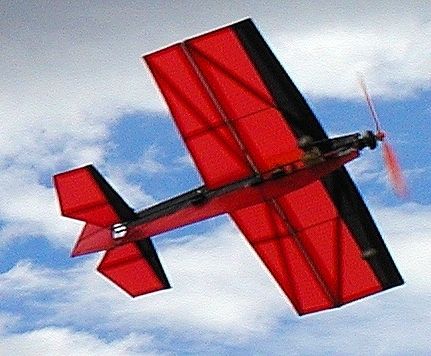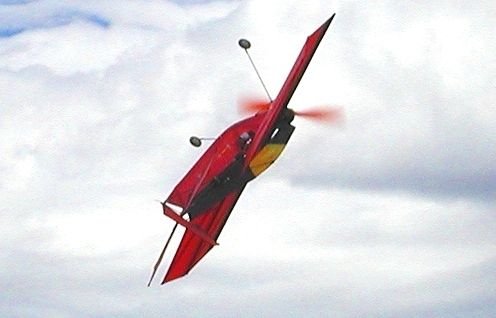 Here's a .mov clip
(this was using 2S ET-1200s when first learning to fly it)
Wing, tail, and LG easily remove and all folds flat for transport
Here's an .AVI clip
(uses DivX codec - let me know if it doesn't work for you)
This is a mix of some 3D stuff I'm learning now that I have 3S PQ 1100 Lipos and more time on it.
---
HUM-BUG - a 4 channel CF & ripstop portable fun flyer that is capable of some 3D on an EPS-300 motor: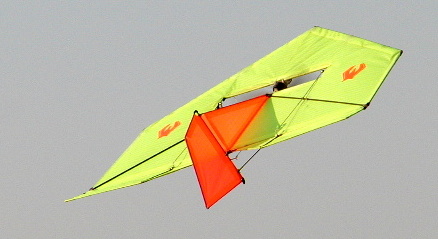 detachable landing gear add to the versatility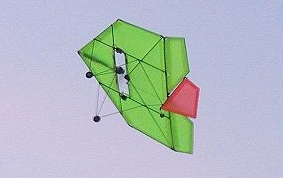 mid-motor allows nose-overs without prop strikes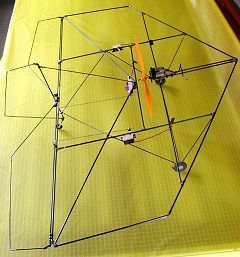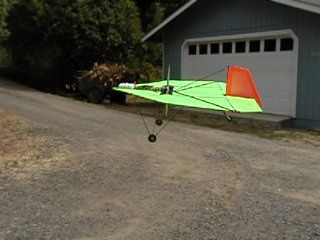 jr. version below is slightly smaller, lighter and 3 channel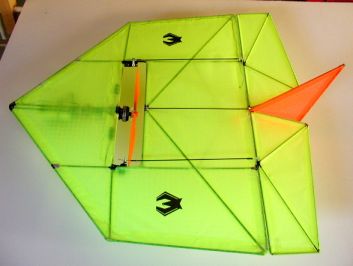 Allows very slow & controlled flight in small areas (twin tail variation show)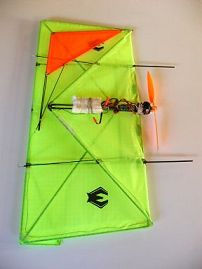 Quick fold up for portability
---
Tower O Power (T.O.P.) VTOL heli/3D training platform for those long winters inside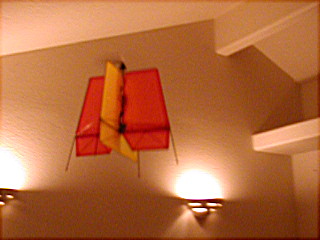 4 channel - EPS-300 or better (flown w/ PJS-300 & Nippy Black 0808)
Total RTS weight with 2S 1200 ETecs ~7.5 oz
---
Copyright © 2010 - 2011 Ace Sim RC - Medford Oregon USA