Ace Sim RC is proud to announce:
=JSF=
Construction Guide
Complete step-by-step building instructions are here!
(click here or pic to skip the sales pitch and go straight to the order link)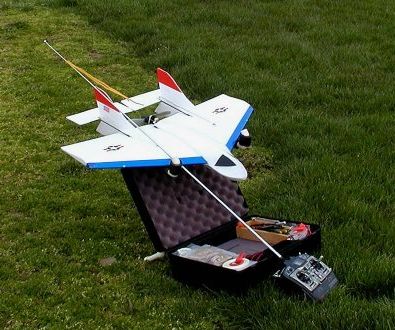 =JSF= flight package ready to go
The =JSF= construction guide book is like no other "plans" you may have built from before.
(except for our Wally Wing construction site of course)
It's more like the "Big Dummy Big Picture Book" leaving nothing to chance.
The 5 mb PDF file contains complete linked bookmark, thumbnail, TOC, and image indexes.
No cluttered drawings to figure out. No imagining what the instructions are trying to describe.
100 pages of close-up detailed color photos showing every step and their descriptions.
Many photos are dimensioned for easy measurement reference.
No multitude of different sized parts to cut out - not even any ribs!
90% of the cutting is all straight line connect the dots.
No copying or tracing patterns as full size fuselage templates are included to print out for quick layout.
We even include a custom military graphics sheet so you can print out your own trim stickers!
SEE BOTTOM OF PAGE FOR
ORDERING INFORMATION.
Compiled from months of testing and documenting, the Jet Street Fighter has been refined to offer the best in flight for less. A complete =JSF= will cost you less than $20 in materials less electronics and can be built in less time than many ARFs! (read more about the development and specs at the JSF home page) A good scrounger could make one for less than $10.

With the =JSF= easy-build instructions, some readily available supplies and common hand tools, you'll be up and flying in no time. If you can measure out simple shapes, draw straight lines, cut on the lines and tape the pieces together, you're 90% there.

No fancy foam cutting equipment or power tools are needed, only a few single edged razor blades, a good straightedge, a flat cutting surface, ruler, pencil, scissors, hobby knife with long point blade, a hack saw and fine sandpaper. Minimal gluing is needed and all hardware is "off-the-shelf".
Everything you need to know is included in painstaking detail from online sources for materials to programming your radio for optimal flight performance.

We show you how to build your = JSF = in any of three ways.

Taileron Trainer (TT) for mixed 3 channel
Super Cutlass (SC) mixed 3 channel stunt flying wing
Super Sport (SS) ultimate 3 servo A/E 3 channel or full house mixed 4 channel fun flyer.
Power your JSF from an inexpensive IPS up to a geared S300!
Truly a multi role flyer! (see the JSF specs & videos page for more info)


Construction of all three models is included as well as how to adapt the power systems we've tested. Any future updates or revisions will be available free to registered customers as well as E-mail support if you do need some help building your JSF.


---

Order your =JSF= Construction Guide here!
THE FULLY ILLUSTRATED 100 PAGE PDF MANUAL INCLUDES:

150 detailed color construction pictures that guide you through each operation.
Step-by-step directions covering every detail of each assembly process.
Complete parts lists, sources and substitution options.
The JSF can be built for less than $20 in as little as a few hours!
Only $15 - (that's only $5 per plane!)
Just like our planes, this guide is the best bang for the buck!
Order now with credit card through PAYPAL and be building immediately!



IMPORTANT product notes: This is a 5 MB Adobe Acrobat PDF file. You can download it here at anytime.
(In fact, it is advisable to be sure you have it properly downloaded BEFORE you pay.
It should be shown as 5270 kb or 5.14 mb on your hard drive .)

Do not try to open it with a left click in your browser with a plug-in!
Instead, RIGHT CLICK on the link and choose "SAVE LINK AS" to your hard drive where you can find it later.
Once you've purchased your registration,
you will be sent to a web page containing your personal PASSWORD that opens the file.
(NOTE: if not automatically redirected to it, please email us for code)
You'll need Adobe's Acrobat Reader version 4 or newer to view the file which is available free at the Adobe website.
Questions? E-mail us from the CONTACTS link below:



Copyright © 2001 - 2013 Ace Sim RC - Medford Oregon USA